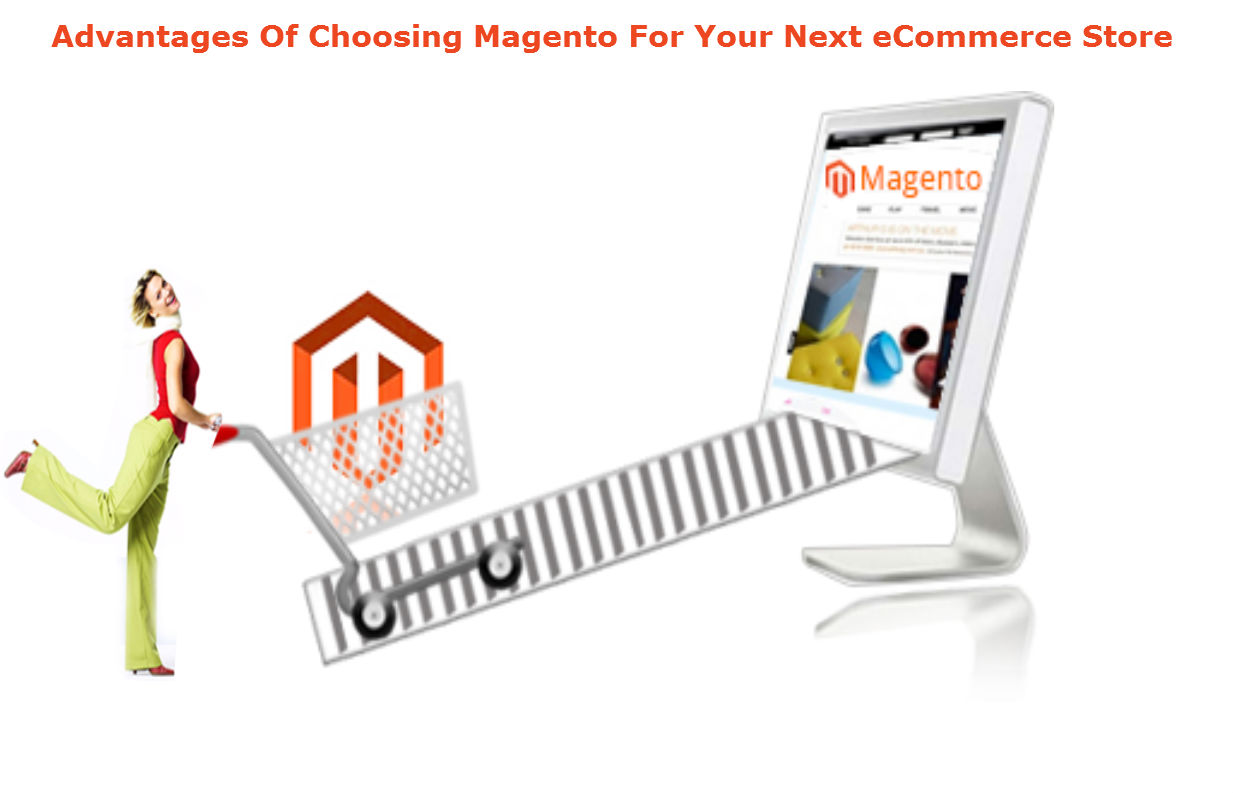 An e-commerce store website resembles an online market place and therefore, should be designed meticulously to make sure that the users enjoy shopping from the website. In addition to offering a great user experience, the e-commerce portals must be programmed to track and record the preferences and shopping habits of the users. When it comes to building e-commerce platforms, the businesses have a plethora of CMS options to choose from. However, the decision should be made on the basis of number of features offered and the support provided by the CMS. Magento is inarguably one of the most favored CMS platforms available in the market today. It is equipped with a multitude of built-in features that just need slight tweaking before it can be put to use.
Why is Magento considered the top e-commerce platform
It gets updated automatically which is not possible with other e-commerce platform.
It is faster and more dynamic than various other platforms for e-commerce development.
Magento makes sure that the shopping experience is easy and enjoyable.
Support to web stores is offered by Magento and it enables inventory promotion on other domains.
As Magento is based on MVC structure, the web store is highly scalable.
How does Magento fair when put against other e-commerce platforms.
How is it better than WordPress?
WordPress is essentially a Blogging platform with a e-commerce plugin, whereas, Magento is a full-blown e-commerce platform.
How does it beat Big Commerce?
Although, Big Commerce can be set up with ease, the plugins are very tough to work with. In case of Magento, the framework is easy to use and support is also very easily available.
How is its performance when compared to Shopify?
Against hundreds of templates and extensions in Magento, Shopify has just about 200 extensions. Moreover, they are not customizable as is the case with Magento. Shopify can be used for small scale e-commerce website but for bigger and more robust e-commerce websites, Magento has no alternative.
How is Magento better than Miva Merchant?
Magento is an open source platform, where as Miva Merchant is a paid framework and very expensive too. Magento offers features like wish-lists and product review which Miva Merchant does not.
How does it beat XCart?
Magento is Open-source where as XCart is not. Also, unlike Magento, XCart lacks customization features and flexibility.
Some benefits that can be reaped when you use Magento for e-commerce websites
A versatile CMS: The page editor is visual based and quite versatile. The UI makes it easy to manipulate the shopping cart without the knowledge of coding.
Advanced search optimization features: There are excellent features that let the organic traffic come to your website. Custom SEO implementation can be done to enhance the visibility on search engines.
Mobile-friendly: The e-commerce websites built using Magento can be rendered responsive with ease, thus accommodating the users who shop using their mobile phones.
Multiple store management: With Magento at the helm of your e-commerce system, you can manage multiple storefronts from a single admin panel.
Enormous support community: There is a very gigantic and efficient community to extend support to the developers. It also means an array of plugins that expands the functionalities of the website.
Conclusion
It is quite evident from the aforesaid facts that Magento is by far the best CMS that can be used to build and manage e-commerce stores. Even after facing stiff competition from other such CMSs, it is still the most preferred over all of them. This is because of the extensive library of themes, plugins, and other add-ons & the support its gigantic community offers to the developers. If you are planning to build your own e-commerce storefront, you can choose Magento without giving it a second thought.
Posted By: HireWebDeveloper Team – Contact Us to Hire Ecommerce Developer for Website Design & Development Service.