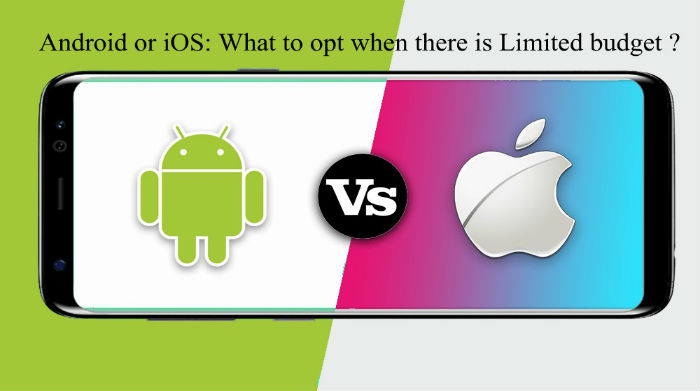 Android and iOS both are the major players of the tech industry and also growing tremendously at a rapid speed. No one is lesser than each other and dominated the market by regularly introducing new competition. These both have become the most debatable topics of today's tech world. One side we have powerful open-source contender Android and on the other hand, iOS is gaining accreditation as a proprietary OS champion.
If I ask you, what would you choose Android or iOS to develop a mobile app when you have limited app marketing budget? What would be your answer? Do you hire Android app developer or iOS app developer to get it accomplished?
Well! In our opinion, app marketing should not get affected by the platform you choose for app development. But still, we have to spotlight some of the proven factors that helped you understand more clearly about what to choose as per marketing budget.
The competition is tough and it's becoming more stringent with the increasing fan following of both of the operating systems. These days, most of the businesses create dependability on apps for greater revenue and growth. But, many times, they stopped when it comes to choosing the right platform for their app.
One thing we want to make clear is that Android is less expensive than iOS app development. Therefore, it undoubtedly has become the preferred choice of businesses. But, does it all end to app development? No! An app can't get immense success until you promote it on app stores or different other platforms. So, app marketing plays a significant role in making an app visible and worth using.
Have an insight into major parameters to decide the app development platform. Let's get started:
The Cost Of App Launch On App Store
Mobile app development is not the last phase for app success. Rather, you can consider it the initial step towards progressive growth. Post development, it's necessary to launch an app on relevant app store. And, it's chargeable. When it comes to comparing the charges, there is a one-time subscription for Android apps to register. But, for iOS apps, app owners have to pay a yearly subscription of $99 which clearly implies that after one year you need to renew the subscription to get the app notified over there.
Many apps come and go. There are only a few that remain in their steady state and get long-lasting success. If you think that launched app might get buried after some time then its good to pay for one year $99 subscription and forget to renew the same. This is how you can save your app marketing penny.
Calculating cost per install for an app is easy and equivalent to PPC. Being an app owner, you can use this metric as a useful strategy for app marketing. This can lead app marketing within a limited budget. When you out your app for CPI, it allows you to only pay when a user installs the app from the app store. CPI never targets the ratio of how many people view the advert regarding the app. The payment will be deducted only after the user installs the app.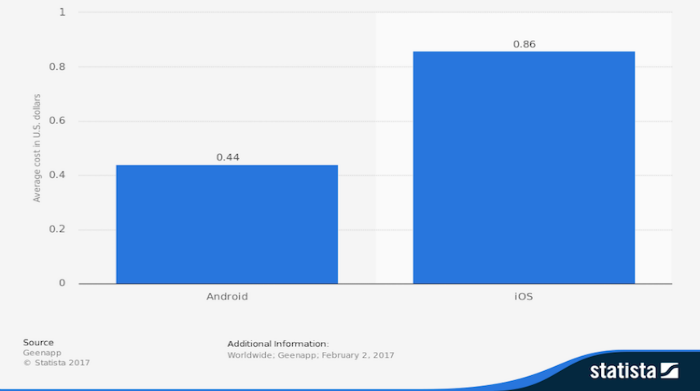 Comparing CPI for the iOS and Android app shows a slight change in both for these. Across the US, CPI rates for iOS-based apps are a bit higher than Android apps. Rest all depends on different regions. Now, the choice is yours which one to choose. There are many other metrics other than CPI and all indicate the Android platform to be a budgetary app marketing option.
Want to get your own mobile app? Contact US!
Analyzing Target Audience
Unsurprisingly, Android usage lacks in the US but, it has gained a commendable niche across the globe with its wide usability, cost-effectiveness and easy operations. A study states that the majority of iPhone users is smaller but, it consists of well-educated and higher income individuals. Whereas, Android is considered as the global leader and is widely used a variety of people.
So, if you want to target the global audience, going with Android app development makes sense else if your motive is to focus on grabbing higher class majority, you can choose iOS app development.
Estimating Cost of App Store Optimization
When you think of app marketing, you have to make App Store Optimization as the center of the promotional campaign. We all know that Android is a Google product and the company strives hard to keep all the Android apps on the top. Optimizing Android app on Google is easy for those who possess appropriate knowledge of Google SEO. However, SEO & ASO (App Store Optimization) is different but still, there's is something relatable between them.
Google introduced numerous advanced algorithms that bring Android apps on the top and make them visible among Android users. So, there are significant advantages of opting Google-powered OS as it prefers Android systems and strives to bring them on the high rank. The best part is that Google is not the sole platform where you can launch or optimize your mobile app. Rather, every device manufacturer owns and interested to own its app store.
The fact can't be denied that iOS has much powered ASO capabilities to optimize existing and new mobile apps. Think in-depth, what you want to have!
Reactions To Push Notifications
It entirely depends on the platform an app is based on. The thing is apparent that iOS users are more active than Android users and respond to the notifications much faster. But, as per the stats, Android users win the race and respond double to the app notifications. We can't explain the disparity very clearly but, there is something technical behind it.
The major difference that we can see for extended Android app usage is that notifications on Android OS last until the user visits it or neglects it. On the other hand, messages on the iOS device get away once the user unlocks the device. It's not sure but, this might be a big reason.
So, Android Or iOS?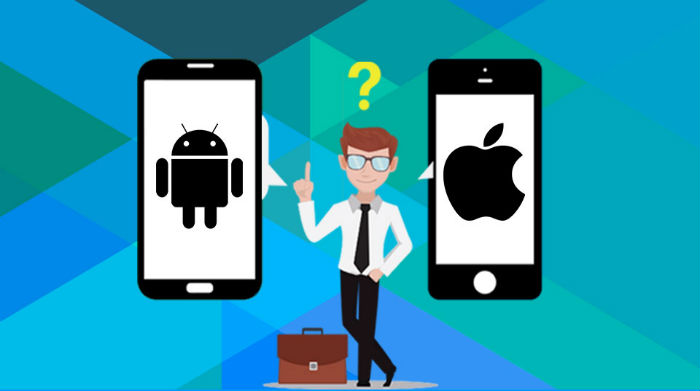 When a business owner decides to have mobile app development they usually stuck to the point which platform to use Android or iOS. And, most of the times, they struggle to hire a professional iOS developer and Android developer for their projects.
While Apple has gained a lot of users and their appreciation for improved and the best app usage services. It's a bit expensive to go for iOS app marketing. But, if you own a limited budget for app optimization, considering Android would be a better step ahead. Therefore, choose wisely and according to your brand requirements.