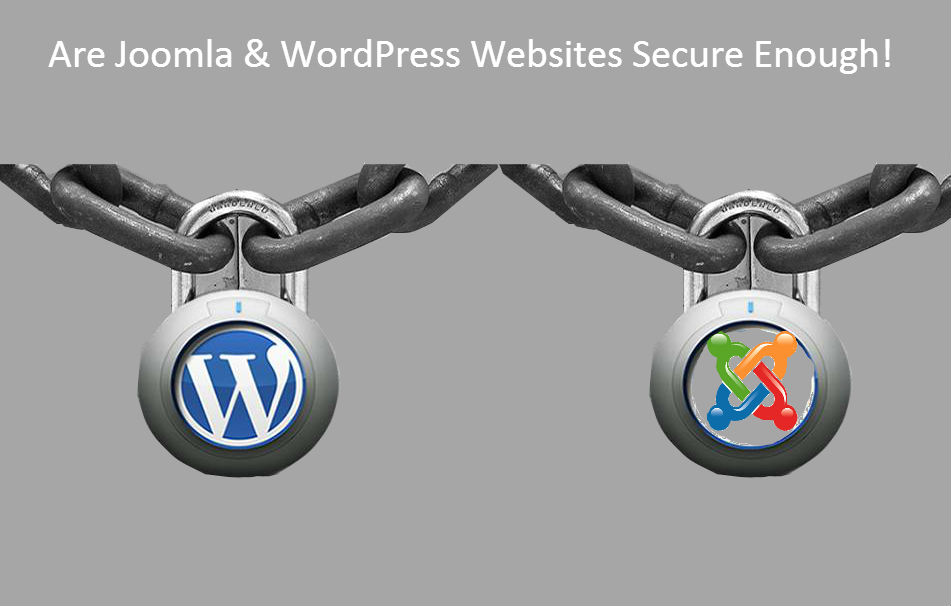 Joomla & WordPress have opened the gateways for multifarious businesses to digital world. Most of the data reveals that millions of websites are powered by these open source frameworks. The common reasons are:
Save development cost
Offer multifarious features
Ease in Maintenance
Assist to secure top rankings in search engine result
When it comes to security, stats do not sound good enough. The study exposes that more than 80% of websites are vulnerable to hacking and other cyber attacks. Every year, thousands of the websites that are developed on CMS are hacked or subjected to different types of ordeals.
Today, this blog sheds light on different kinds of attacks, what are the real causes and how can anyone keep their website safe.
Different Types of Cyber Attacks
Cyber attacks have led different businesses worldwide to bear the harm of more than $700 million. And, the number is increasing every year. So, what are these cyber attacks and what are root causes that increase the number of these kinds of attacks. Let's have a glimpse below:
Backdoor: Backdoor is a kind of technique, where hackers generally breach the website architecture secretly through validated bypassing mechanism. And, then remotely access the valuable data as well as control various features of the website.
Pharma Hacks: This is a kind of Black Hat SEO practice. This kind of hack cannot be easily detected by the website owners, except the search engine. Here, plugin files comprising malicious code are transferred into website environment. And, that malicious code creates ordeal for the websites. In some cases, the Pharma hack can cause the removal of the website from search engine result.
Drive-by Downloads: In the recent 2 years, there is a sudden spike in malware attacks through drive-by download. Drive-by download is a kind of hacking, where malware is injected via infectious code or through redirecting the users to certain website that entices them to download the program or file that seems to be helpful, but in real it is not.
Malicious Redirect: Here, the malicious code redirects the visitors of your website to the malicious website. This affects the flow of web traffic badly and that further decreases the ranking.
Root-Causes that Streamline Cyber Attack
There are various factors that mend the path for hackers to easily infect your website. Let's explore those factors:
Weak Password: Most of the WordPress and Joomla users choose the weak password and username that ease the way for hacking program to crack the password or enable the hacking program to get into website architecture.
Poorly Coded Third Plugin:Everyone wants to enhance the functionality of its website; thus, they integrate plugin. But sometimes, they choose bad coded plugin that leads to jeopardize the website, instead of optimizing the functionality.
Outdated Extensions & Plugin: Sometimes, the website owners forget to keep their extensions, plugins and other features of platform updated. This makes their website architecture weaker.
Low-Grade Hosting: In order to save cost, most of the business owners deploy their website on cheap or low-grade hosting that is also one of the major reason behind the website being hacked.
How to Maximize Security for Websites?
Undoubtedly, in these 3 years, hackers have gained expertise in their unethical practice. But, this does not mean that there is no possible solution to deal with them. Here are various solutions that one can deploy to optimize the security level:
Use Strong Password: The use of strong password ensures difficulty for the outsider to breach. It is recommended that strong password should comprise following features:
a) It should be of minimum 6 characters
b) There should be a use of alphanumeric & special characters
Keep an Eye on Infectious Code: It is better to use scanner, like SUCURI's site check, Unmask parasites, Quttera and many other to scan the website architecture in terms of identifying the malware, spam or malicious code, so that you can remove them on time and keep your website secure until it is too late.
Deploy your Website on Reputed Host: There are various hosting service providers that facilitate flexible and economical service. Thus, choose wisely your service provider and make your web page safe.
Maintain Backup for Your Website: We all know that data and content on the websites are the assets. And, if they are lost due to hacking or other mishapping, then this will make all your efforts worthless and may also hamper the productivity. Thus, it should be kept in mind that backup should be maintained for every content.
Points should be Remembered for WordPress based Website Owners
The WordPress should remember the following things in order to strengthen the architecture of website:
Keep Your WordPress Updated: There are the stances when the users ignore to upgrade their website, even when WordPress is notifying and urging them to update the website to the newest version.
Enable Two Layer Security: There is a 2 factor authentication (2FA) feature in WordPress that adds extra layer of security, if it is enabled. Thus, turn on 2FA to increase security layer.
Curb Login Attempts: You can limit the number of login attempts from the same IP address by embedding plugin.
Imperative Things that Joomla User should Implement
Now have a glimpse over the imperative things that Joomla website owners should consider:
Change Permission Access: Make changes in the file permission access to obstruct editing and overwriting the content.
Mask Information that Makes Website Vulnerable: The Joomla URL conveys lots of information, like page visited, numbers of visitors, what pages are being used and many more. Therefor, it is important to hide such information, which is possible with the help of SEF extension. The SEF can camouflage the data and make your website lesser vulnerable.
Make Configuration File Un-Writable: In the root folder, there is a configuration file, which is by default configured with an easy-to-update setting. Hence, it is good, if the Joomla user changes configuration of the file to un-writable mode.
Remove Unused Template: The unused template makes it difficult for the users to maintain the website and hence, it becomes more prone to get hacked.
Apart from all these things, the Joomla and WordPress users should be vigilant. And, there is no better place than Google Webmaster where they can analyze their website easily.
Conclusion
If your are website owner, your job is not limited to just handling the content, it is also your responsibility to keep the website content safe and secure against potential threats. Hence, you should not leave any stone unturned in terms of making your Joomla and WordPress website completely secure. If anything is missing in this article, then please share your views; we will be glad to hear from your end.