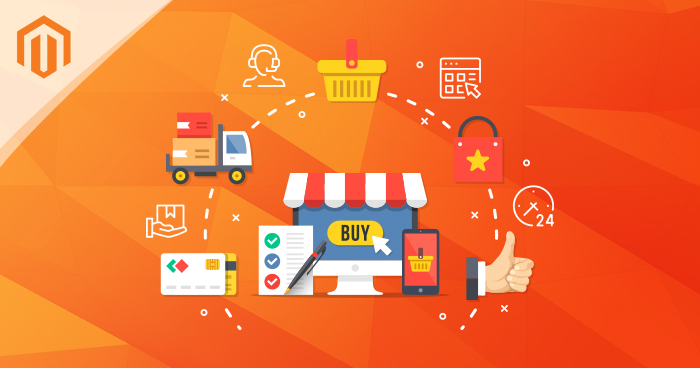 In the growing e-commerce industry, designing and developing a shopping website is not a big deal as multiple platforms of e-commerce are available for this purpose. The only thing that matters a lot is to find a feature-rich and fully-fledged platform of such kind, so that the online shopping stores developed using it are out of the box. In this regard, Magento is a leading and the results-driven option and has been placed at the top position when it comes to e-Commerce website development. It is being used by above 30% of top one million websites and this count is increasing at a consistent rate.
Magento has acquired this position because it has something for everyone whether you a programmer or admin of the online store. From small to the world's leading e-commerce brands are using it for several stunning features & functionality. Here, the main focus is to highlight those crucial reasons that make up your mind as an entrepreneur to opt Magento.
Reasons to choose Magento for your e-Commerce website development
The success story of Magento reveals with its usage by more than millions of the shopping websites around the globe. Some crucial reasons in the context of its increasing popularity and usage have been defined below:-
Available with no charge
Magento, being an open source platform of e-Commerce, is available for downloading with no charge and in total three versions i.e. Community Edition, Enterprise and Professional. The former edition is the most popular one and is being used by above 20% of the total e-commerce websites. Install any version of Magento free of cost for developing fully-functional and standout web pages.
Built for e-commerce
Magento is a complete e-commerce solution and was built specifically for this purpose only. The stunning features of e-commerce that you can get with Magento, do not seem possible with other such e-commerce platforms. Some of these features include dashboards for user, inventory & shipping management, product bundling, etc. The online merchants around the globe are enjoying matchless features of Magento and experiencing the highest business returns.
Gives choice of hosting
A wide range of the e-commerce platforms are self hosted indicating that there is no option of choosing a host as per your requirements. But, this issue does not persist with Magento as it facilitates you to choose the hosting that is the best and match your requirements. In fact, Magento also comes with self hosted option, but it is not compulsory.
Matchless flexibility
Another crucial reason of increasing usage of Magento is its matchless flexibility that it provides to your e-commerce stores. Customizing a Magento website according to the business needs and requirements is absolutely easy as it features in-built modules and extensions.
Integrate different tools and apps
By choosing Magento for e-Commerce website development, you get the facility of integrating different tools and apps in your website. Choose from any of the secure and third party gateways for your online shopping store.
High speed and performance
Magento powered e-commerce websites are widely known for their speed and performance. It helps to reduce loading time of the website with increase in its performance.
Fully-optimized and responsive stores
Being a search engine-friendly e-commerce platform, Magento features fully-optimized shopping stores. It also builds responsive stores to make them accessible on all types of the mobile devices.
With the help of these reasons, it is clear that why Magento is preferred over other platforms of e-commerce. It offers something unique and matchless that help build fully-featured web pages to ensure the business success.