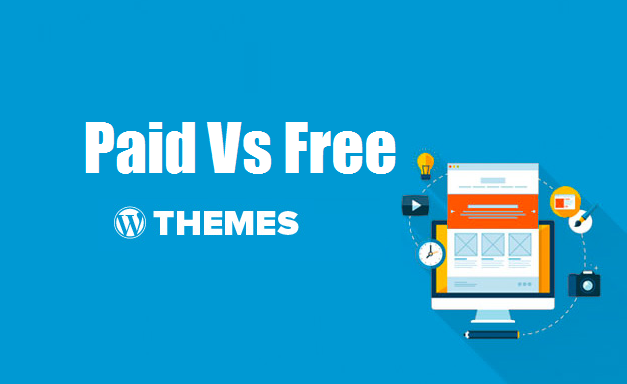 Selecting the right match between paid vs free WordPress themes is extremely important to make sure that your business goals move ahead in the right direction.
All those businesses that lay the foundation of their business on WordPress often get stuck between choosing paid vs free WordPress themes. In this blog, we will be providing in-depth answers in this context. So, we have summarized the advantages and disadvantages associated with both theme types and how they can be beneficial to your business.
What are Free WordPress Themes
Free WordPress themes are offered via official WordPress.org themes repository. It is not recommended to use or install WordPress themes for any other source.
Advantages:
As the name says, "Free WordPress Themes" are free of cost. They are most importantly issued under GPL license. This gives developers the authority to use it in whatever way they wish to.
Free WordPress themes are easy to install from WordPress installation back end. They can be installed in just a single click from

Appearance >Themes

A stringent quality check is done before approving them. It means they pass all the advanced coding standards and are further reviewed by testers who are savvy WordPress users or experienced WordPress developers. They are also analyzed by reviewers who ask to make additional modifications before the final approval.
Free WordPress themes are highly compatible with plugins because the coding standard is almost same for all.
Making any kind of modification to free WordPress theme is quite easy. On switching the theme, you will come across a new design and layout. You can also keep using your favorite plugins to get theme of your choice and needs. The need to redesign content gets eliminated.
The process to customize is simple:

WordPress Admin> Appearance> Customize

Free themes offer easy time developing your website. They make your website load faster as well.
Since, free WordPress themes are designed keeping the beginners in mind. They are simple and easy to use. Many of them think that since the theme is free, it does not has any value. However, this is the biggest myth. Free themes are becoming competitive enough these days because they offer great functionality and in return they also get benefited from selling extended version via paid add ons.
It is also a big misconception with free themes that they do not offer great support. However, this is not true. For every theme, you can check support forum on developer's website. Support will be offered within 24 hours and it is probably better than the support offered for premium themes.
Disadvantages:
It is said that free WordPress themes offer limited support, however it it not exactly true. If support forum is working and responses are genuine along with fixing bugs, it is the same support service that you will get with premium theme.
There are some who would not appreciate the design offered by free themes but stunning and eye catching designs are still available with free themes.
Free WordPress themes might lack professional design. To avail the same, you need to switch to premium version.
Premium WordPress Themes
Premium WordPress themes are available for purchase from online stores. The most reliable market to purchase these themes are, Envato and Theme Forest. These markets generate the highest sale and revenue.
Advantages:
In comparison to free themes, paid are extremely high in quality. They feature varied options, design, templates.
They also feature large number of customization options. High-end features, and paid plugins are some extra features you get with paid themes.
Unlimited support options are offered via forum, email, video etc.
Greater customization along with third party app integration to extend the functionality of your website.
Documentation is provided to offer guidance throughout the setup process.
Drawbacks:
Premium WordPress themes can be quite expensive. Sometimes, your favorite theme can go over your budget. Some premium themes require yearly licensing.
Sometimes premium themes come with a large number of unimportant features that bloat your website and make it slow.
Premium themes do not go through official reviews most of the time. As a result, you may end up buying a theme with poor coding.
Paid Vs Free WordPress Themes: How You Decide The Right Fit?
When it comes to deciding between paid vs free WordPress themes, it is completely your decision. There is no "the best" choice across the board. However, the benefits of premium themes outweighs free themes. Therefore, it is advisable to opt for premium theme. Also, you need to consider your business expectations, needs, budget and aesthetic preferences when deciding between paid vs free WordPress themes. If you have some more points to add to this post, please describe them in the comment section.
Posted By: HireWebDeveloper Team – Contact Us to Hire WordPress Developer for WordPress Web Development Service.