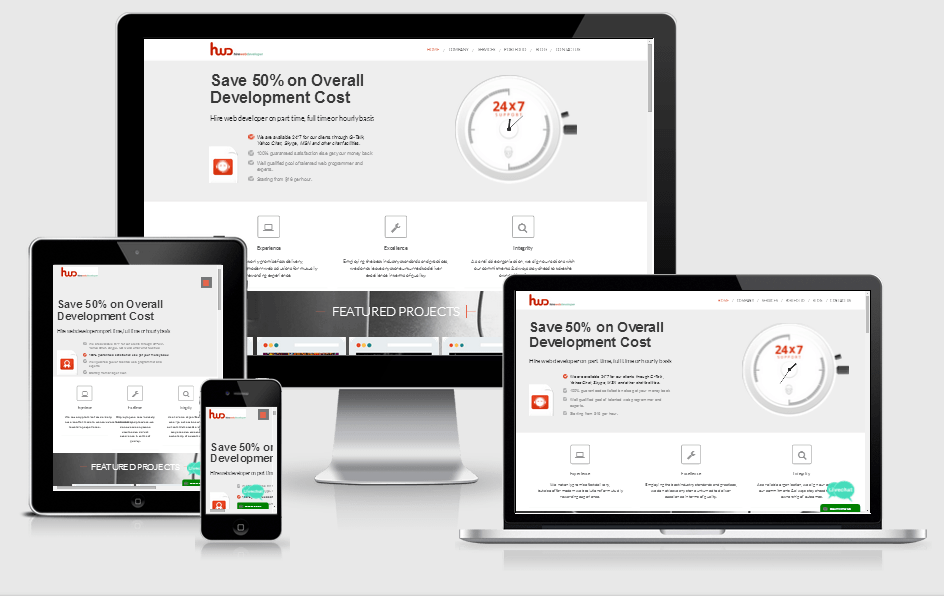 The recent impact of smartphones on our lives is something that is quite evident. The tasks that we used to accomplish using a desktop computer or a laptop can now be carried out by mobile phones. The advanced hardware and software that power these devices have made this feasible. There are about 2 Billion smartphone users in the world who are shopping, paying their bills, transferring money and availing all the online services through mobile phones and tablets.
Mobile browsers now produce increased online traffic as compared to the desktop browsers. This shift is indicative of the fact that mobile is undoubtedly the place your business needs to be. Moreover, the latest search algorithm that Google has adopted, ranks mobile-friendly websites higher than those with a non-responsive interface. Therefore, your business cannot do without a responsive website that is compatible with a range of mobile devices, tablets, wearables and other devices.
A new way to get desired responsive website has emerged as Sketch which is gaining immense popularity these days. It is quite easy to use and can create stunning design layout and convert them from Sketch to HTML responsive website. It is being seen as a better alternative to Adobe Photoshop.
Responsive web design is the only way, you can achieve mobile-friendly websites. However, not every company is into web designing and must hire responsive web designers for getting a mobile-friendly website designed for them. The range of devices is vast and it becomes a daunting task to design websites that fit the screen of devices as small as smartphones and as large as smart televisions. Only the most seasoned and skilled developers can accept these challenges and come up with compelling designs in return.
Fast internet and easy availability of smartphones have made responsive web design a must
Responsive web design is something every company requires in today's times as mobile internet and smartphones have reached the remotest places. Such proliferation of technology has indeed changed the dynamics of the industry. Especially, the e-commerce websites who rely heavily on users who do not have access to branded physical stores, require mobile-friendly websites to reach out to them.
According to several recent surveys, 75-80% of the online traffic comes from mobile users.
The sheer growth in the number of smartphone users is enough to drive home the point that businesses need to target them through mobile-friendly websites.
Google has also come in support for responsive websites and decided to discard those websites which do not have a mobile-friendly UI.
Businesses can reach out to the prospective users even when they are on the go if they have a website that can be accessed on the mobile devices.
Users now have a plethora of options and the businesses in order to woo them, have to offer enhanced user experience.
It is highly advantageous for the companies as they are spared from the extra expense of creating and maintaining a mobile website, especially for the mobile users.
It is beyond doubt that a responsive website can be a boon for a business, provided, the website is well designed and is compatible with mobile phones and devices of varying sizes. A number of businesses have already adopted this design paradigm like flipkart, ebay, etc and your company must not lag behind.
Importance of hiring a skilled web designer when dealing with responsive web design
However, when you hire an experienced responsive web developer from a reputed firm, these challenges are met with a great ease. These developers make use of some simplified tools that help in determining the responsiveness of a website. One such popular tool is www.websiteresponsivetest.com that helps in conducting mobile-friendly website test successfully. Therefore, you must place your trust on none other than the experts to get a responsive website developed and designed for your business.