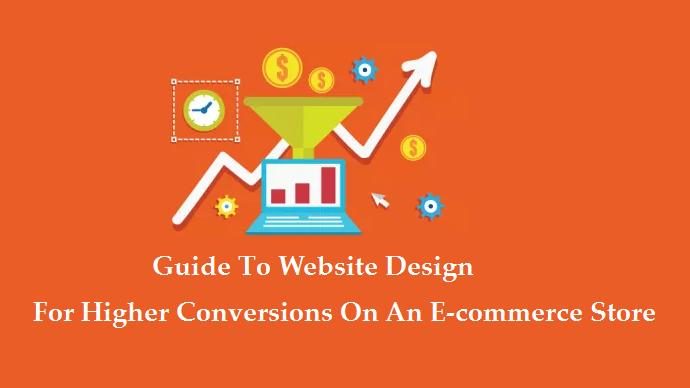 The ultimate objective of an eCommerce business being operated online is to get revenues and conversions. Whether it's a small business or a highly evolved eCommerce store, designing it for increased engagement and sales should be the prior motive. A design that is thriving and visitor-focused attracts consumers in real-time. In the process of designing an eye-captivating store, aspects like content, in-built functionality and high-end features contribute equally.
The problem gets solved with the emergence of advanced design themes, templates and extensions. You can easily hire web designer who makes use of advanced themes to create a design that leads to increased conversions and revenue.
A web designer allows you to create a feature-rich online store that comes packaged with a whole gamut of themes and extensions that let you customize the store according to the business needs.
Website Design Guide For Maximum Conversions On An E-commerce Store
Incorporating a responsive design
The new-age mobile phones have attracted the eCommerce industry to a great extent. This popularity is attracting designers to create a website that functions smoothly on all devices and screen sizes. So, if the ultimate aim is to acquire targeted customers, responsive design counts to be the perfect idea. Responsive websites offer an enticing experience to both desktop as well as mobile users.
A mobile-friendly version of website also gives zooming, panning and scrolling experience to mobile web consumers. This helps businesses earn higher conversions and improve sales.
Having a checkout process that is simple and accessible
Most of web consumers abandon their purchase in the middle because of a lengthy checkout process. This is something that cannot be ignored as it simply annoys consumers and compels them to leave the site. In order to fix the conversion funnel, it is important to design a quick and simple checkout process.
One-page checkout comes forth as an ideal solution to boost conversion on the website. Listed below are some easy ways that can help you achieve the same:
Keeping the steps clean, simple, short and concise to an extent
Trying to make some steps optional
Giving the option to modify products with ease that includes quantity, size, etc.
Addition of "Back" button on the checkout page
Eliminating irrelevant elements like product category links, latest offers and so on.
Emphasize on making a search bar that is user-friendly
By adding a simple, visible and user-friendly search bar, customers get to find the desired results related to the product or information. Ecommerce giants like eBay and Amazon also feature a user-friendly search functionality that helps in maximizing conversions and traffic on the website.
To implement a user-friendly search bar, start with:
Insertion of search bar at the top of landing page
Make sure to have a search bar that accommodates queries of all sizes with ease
Should display results as quickly as possible
Implementation of auto-complete feature to let them find the search term instantly.
CTA's that are recognizable never go out of fashion
CTA or call-to-action buttons contribute a lot in transforming one-time visitor into potential customer. CTA buttons should be intended at acting users. They should have a written text that encourages people to take an action immediately. You can use "Add to Cart", "Register now", "Subscribe for more" or "Buy now" to ensure higher conversions and ROI.
A professional-looking and engaging CTA is designed for better conversions, so it is recommended to choose the right one to let your consumers convert more.
In a Nutshell:
These are some of the compelling web design tips that are meant to encourage the conversion on an eCommerce store. Following them can help you in offering consumers with a rich shopping experience.