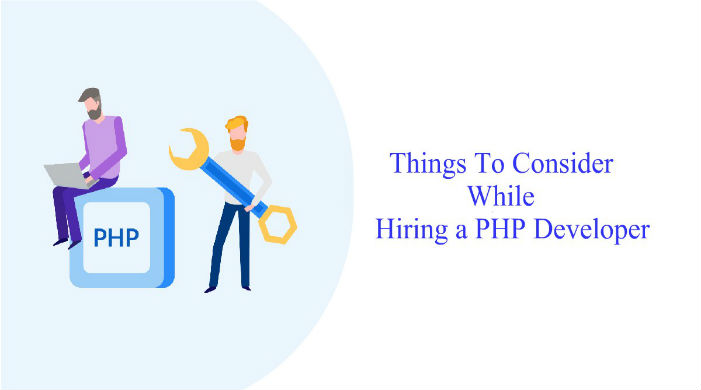 In today's technology world, PHP is the most demanding programming language, which you may use for developing your website. But, if you choose the PHP language, then you should hire the best PHP developer. A PHP expert will help you incur additional burden of the projects that too without requiring your infrastructure. To add a professional in your team, you will be able to rive up your business sales and improve conversion rate as well. However, selection of PHP developer can be the tedious process but you should do it in an efficacious way.
In this post, we are describing some points which you should look while hiring the PHP developer. These points will help you find the appropriate PHP developers. This post will prove as a direction for the website owners, who require developers with in-depth knowledge of PHP development.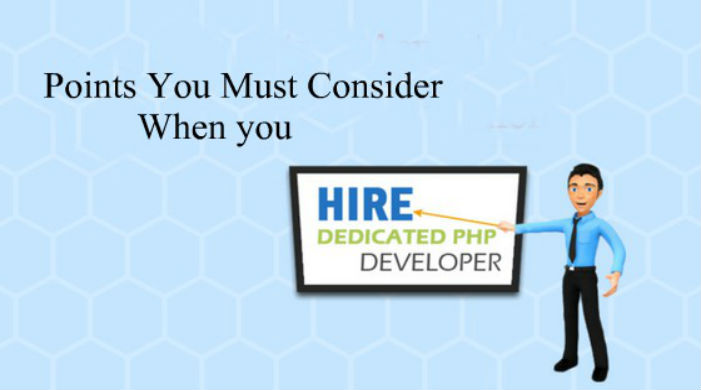 Let's have a look at some points:
Experience and Level of Expertise
The prime things which needs to be checked for hiring a PHP developer is the level of expertise and experience. According to work complexity, you should check the ability of a developer means he holds the good knowledge about that technology or not. The experienced PHP developers hold the vast knowledge about multiple services related to PHP frameworks like hashing, artisan console, cache, elixir, billing, queues, package development, etc. With full knowledge of all these areas, they build a smooth application using PHP framework.
Before hiring the best PHP developer, you should check his interpersonal skills. If he is not communicating well, then he might be fail for building a perfect relationship with the clients. Thus, it is very necessary to check how a developer is communicating with others.
Solve complex problem efficiently
PHP is an open source language, which makes it highly preferable language by web developers. If any complex situation arises while working with PHP language, then a good developer can solve it efficiently. Thus, you do not need to worry about handling any complex situation.
Understands the company culture
An employee, who works with your business culture is an employee that will really flourish within your business organization. Thus, when you want to hire the PHP developer then you must hire someone who is passionate about your business philosophy and who possesses great understanding about your work. It will give you the best result in the end with better work environment.
You must check the work portfolio for the developer it will help you which types of project they worked on and will provide the better idea about the project he has handled in the previous company. By this way, you may know how he will handle all types of projects including small, medium or complex and how soon he can understand the work provided by your organization.
Looking To Hire a PHP Developer? Contact US!
In this technological world, we can't underestimate the aspects of adaptability in a PHP developer. Thus, your developer should be passionate for learning new technologies. Ask your candidates which websites they check on regular basis about new tricks and tips. What was the last language they worked on and learned. You should check how many conferences they have attended and what communities are they part of? However, you need a developer, who loves the new technologies and can combine all their skills for creating a big project.
For hiring the right developer, you should follow the various approaches to towards appropriate sourcing. You may use many excellent platforms such as Stackoverflow, Github, Meetup, Mogul, etc. to check where these candidates spend more time online and to know their technical skills. Use search engines to find the perfect resource as it is the top source to pick the talent time to time. There are many freelancing job postals from where you may hire PHP developers. You may also check the numbers of PHP groups, but keep in mind their policies while posting any Job description.
The Ability to Work Remotely
Hire those candidates who can work remotely. Most of the time, PHP developers can do high-quality work from several countries away. It will allow you to take project from other countries as well as your developers can work in an easy way. Thus, before hiring PHP developer from India or other country, you must mention all the roles and responsibilities in your job description, so that you can find the perfect candidate for your company. Besides the basis knowledge of PHP, candidates should posses strong knowledge on Zend, Cake PHP, Laravel, XHTML, HTML, MySQL, etc.
Agile Development Best Practices
Your developers should know about the agile technology as it is the most demanding technology right now. There are many developers who claim to be applying agile-development best practice but in-fact only few of them are working from starting. Ask some questions about Agile base process like did you work on release planning and sprint? What does your test case look like? Do you know about measuring velocity? These questions will help you find out the suitable developer for your business organization.
Conclusion
These are the some few things which you should know when hiring PHP developer or PHP expert. If you are also looking for an efficient PHP developer for hire, then HireWebDeveloper is the best platform to consider. We offer the hiring services on hourly, weekly or monthly basis. Thus, you can choose the model as per your specific business requirement.