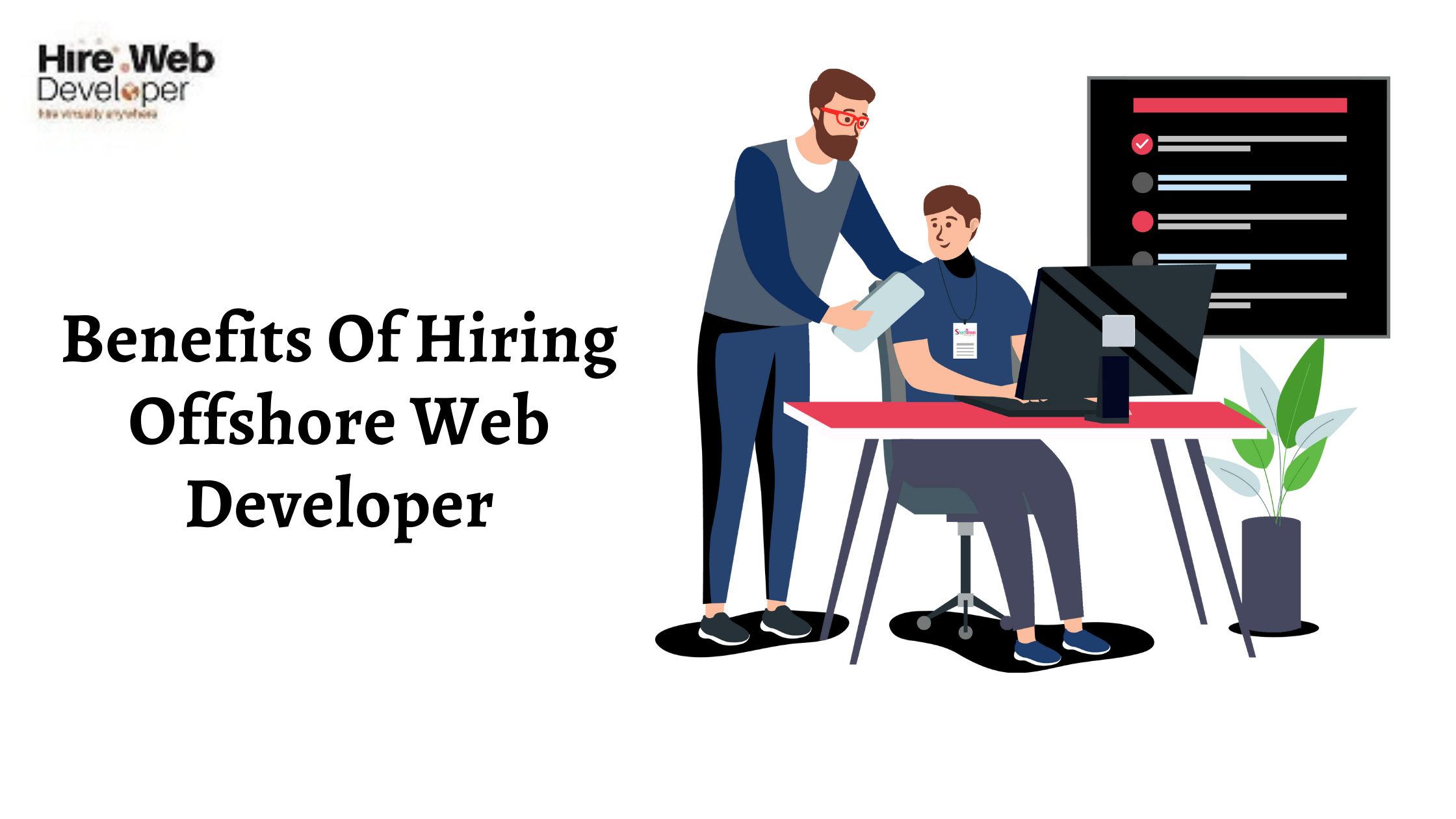 The offshore web developers are in high demand right now! Creating success in today's market and standing out in a competitive environment is nearly impossible without the best technology available. Technological advances keep changing rapidly, and consumers are always looking for new ways to be entertained. Businesses are therefore kept on their toes by this.
Outsourcing developers are located in other countries or continents with a specialized team of web developers under one roof to provide your business with the services it needs. You can hire dedicated web developers to work closely with the founder or hire web developers as an extension of your tech team. 
Using a platform such as HireWebDeveloper, which provides vetted and specific recommendations to meet your developer needs, you can build your tech team quickly. You can grow your business profitably in a short period when you hire web developers by offshoring them. Let us dive into this blog to see how. 
The Advantages Of Outsourcing Offshore Web Developers:
Offshore web developers are becoming increasingly popular because they are cost-effective for various businesses. A full-time in-house IT expert can be costly, especially in developed countries like the US, UK, and Australia. Multiple projects can double the cost of hiring an IT expert on a full-time basis.
In addition to their basic salary, each employee's payroll includes taxes, incentives, extra benefits, equipment expenses, and electricity consumption. Therefore, an offshore web developer can save money and have zero recruitment costs. The type of offshore developer you hire will be determined by the kind of project you will be doing. It is up to you how many offshore developers you need for your project; therefore, you may work with as many team members as you wish.
You might have to wait for a long time for your team to be formed and the project to begin when you build an in-house team of developers. Today, the entire hiring process takes a few days for candidates to be interviewed and less than a week for the web developer to be deployed on your project.
Due to the explosion of advanced technology and trends, various businesses are constantly on the lookout for web developers who can match their budgets and offer them the superior quality of new technologies.
The systematic development of advanced technologies has increased the need to hire web developers. The recruitment process takes a long time to find and hire suitable candidates. Having access to technical software developers' talents is an advantage when you hire a web developer.
You will be able to develop any business-related software with the help of different offshore development companies from other countries. They already know the exact requirements; therefore, you don't have to explain them.
Several web development techniques require more focus, and the process is also time-consuming. Continuous team supervision may divert attention from core business functions while focusing on software development. Businesses that outsource a developer overseas are more focused on their business.
They are overseen by experts and supervisors at the offshore development company. Synchronized work allows the company to achieve its goals.
Access To In-Budget Advanced Technology Resources
Since small businesses cannot afford the latest and trendiest technologies, getting access to them is nearly impossible. Offshore web developers spend much of their time improving technologies and learning new software skills so they can smoothly carry the lot to the table.
Furthermore, you will receive high-quality documentation, structured strategies, and a wide range of new technologies. You will always receive new systems when necessary to update or replace them.
It becomes a big responsibility to launch a new business or expand it. You sometimes have to decline business opportunities because you have so many responsibilities and are worried that you won't deliver the project on time.
They are responsible for developing and maintaining the website, mobile applications, social media posts, editing photos, and videos, among many other responsibilities. You should recruit more volunteers to increase budgets.
With an offshore web developer, you can work on the budget, reduce costs, reduce liabilities and take on more significant projects. In contrast, your internal team can take care of daily tasks such as social media marketing.
Work In Your Preferred Timezone
Working with offshore web developers involves working with different time zones. Due to the time difference of about 10–12 hours, western countries outsource their development work to eastern countries.
Western companies have finished for the day while offshore development companies in the East started working. Both companies benefit from the overlap time. The company in the western country will complete most of the work on the following day when it starts the working day. 
The other benefit of outsourcing and hiring a web developer to an offshore team is that it reduces the workload on in-house employees. It's easy for business productivity to improve when engineers with unique skills are on board.
The web developers are given a specific task during the development process, and their experience leads to the best possible improvements. A different web offshore developer can be assigned the task, and you can choose the best work that meets your satisfaction.
As opposed to working on multiple projects, offshore web developers are dedicated and works on one project at a time. By doing so, the service quality improves, and errors are reduced.
Blockchain technology developers, for example, specialize in blockchain applications, whereas UX/UI developers work on graphics-related projects. The roles of each team member are well defined; therefore, it is much easier to finish the project on time and start on the right foot. The overall development cycle is improved by working with dedicated team members.
Final Thoughts:
It is not just about cost reduction when hiring an offshore development company. Having a dedicated offshore web developer makes it easy to understand the product without describing it in detail since the blueprint of your idea can help them know what type of product you need.
For decades, global industries have preferred to hire web developers to maximize productivity and leverage their skill set to propel business growth. Getting the best deal in terms of service and price from an offshore web developer can help you succeed in the current competitive world and attract more customers.