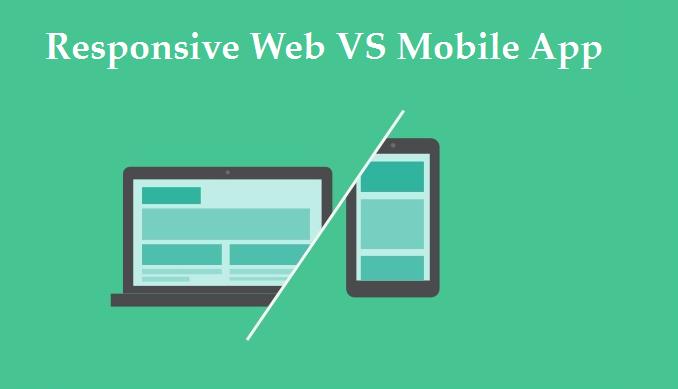 Being a business owner, you must be aware of the technological advancements that can hamper your web presence and in turn your business growth. The ultimate goal of every business is to be updated in order to survive in the industry and draw maximum outcomes from your brand website. User experience is the key to success for every website that resulted in responsive web design (RWD) approach in the internet market. Likewise, mobile apps are turning out as a smart way for customer retention by showcasing your brand globally.
Although, both the terms, mobile apps and responsive web designs are crucial and play a unique role in different contexts, but to get result-oriented solutions for a business, it is necessary to choose the one which benefits you the most. Logically, your selection entirely depends on your requirements. For a wide online presence, a responsive web seems perfect, whereas, if you think only about gaining profit in terms of sales and revenues, a mobile app can do wonders.
Let's come to know how Responsive web Vs Mobile apps work-
Responsive Web Design- An Answer to High-end Device Flexibility
Increasing use of smartphones has led to the creation of responsive designs that can fit to any device size. The ultimate aim is to grab all kinds of the customers using different devices. A rich UX is the primary benefit that you will get after opting a responsive design. A flawless view to every person, no matter which device they are using is much satisfying. Moreover, the RWD designs count for better ranking as Google favors these websites greatly.
Mobile Apps- An Easy Way for Brand Awareness
Mobile apps are the lightweight applications to showcase your brand in and easy way. With a good mobile app for your business, you can advertise your business for a wide reach. This is a direct way to increase your sales where you have an added advantage to benefit your customers with exciting discounts, offers and sale. On the top of all, user interaction can be guaranteed through a feature-rich app. Customer retention is another associated advantage that your app will provide.
A Comparison Chart to Differentiate Responsive Web Vs Mobile App
| | | |
| --- | --- | --- |
| Aspects | Responsive Designs | Mobile Apps |
| User Experience | UX is focused for a website which has been optimized for different mobile devices. | UX is focused for mobile phones only which is improved further by using HTML5. |
| Navigation | Top to bottom by default. | Left to right navigation for carousel navigation concept. |
| Performance | Performance lowers by potential bandwidth issues when server sends heavy media. | More streamlined and better performance most of the time. |
| Maintenance | Less maintenance cost required, changes reflected for all kind of devices. | Moderate maintenance cost, changes made separately for website and mobile apps. |
| Development Cost | High cost pertaining to the increase in number of elements. | Not much cost required. |
| Versions | A single version available for website optimized for all mobile devices. | Two separate versions, where one for mobile and other for website. |
| Design Approach | Quite complex to learn for a newbie, need specialized knowledge. | An easy go if exact features and functionality are known. |
| Implementation Time | Longer development time required. | With all the features known, it is a swift process. |
Studies have shown that about 90% of the time that mobile users spend is primarily invested on the apps. These apps are majorly like Facebook, Messaging, utility apps and several games that people love to be part of.
Both the approaches, RWD and mobile apps are important for improved results. You only have to prepare a roadmap and can also hire mobile app developer in order to obtain a result-oriented solution for your business.
Posted By: HireWebDeveloper Team– Contact Us to Hire Responsive Web Developer and Mobile App Developer.