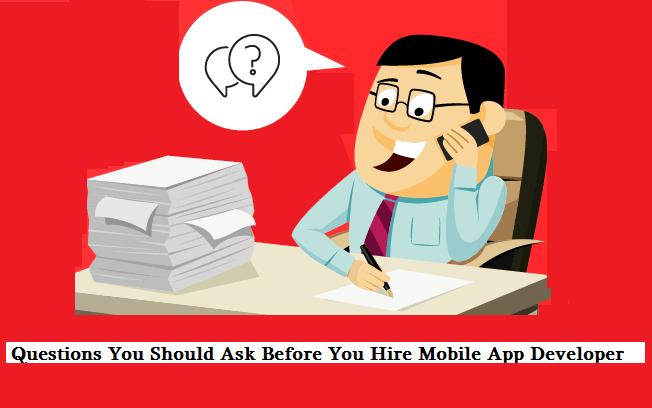 Before taking a step ahead to hire mobile app developer who render customized solutions directed towards your business objective, businesses need to focus on their key strengths, total experience and the skill set for making the right choice.
In today's modernized era where nobody leaves home without their trusty smartphones and tablets, mobile app development has definitely become a golden goose. One of the fringe benefits of owning a hand-held internet connected device is the ability to download the application of your own choice. Mobile apps not only lets users simply buy products at ease but also can multiply brand exposure and sales.
If developing a mobile application is something you are giving importance to, you also need to ensure getting the best developers to handle your needs and deliver the best outputs. Employing an experienced mobile app developer will definitely help you build a customized app according to your business needs. You should always hire mobile app developer India with a great skill set and knowledge to create the best app for your business.
Before taking the help of experienced app developers, you should ask a few questions that will help you understand the developer as well as assist in making the right choice. A few of them listed below are:
1. Could You Explain Me The Overall Mobile App Development Process?
Asking this question will give you an insight into how thoughtful the developer is. If the approach adopted by him/her is well-planned and features a realistic time-frame, it can lead to an increase in costs.
2. Can I Get An Overview Of The Clients You Have Worked So Far With?
This question counts to be of extreme interest if you are looking towards getting the best mobile app development service. A well-qualified developer will have a splendid and inspiring list of clients he has worked with or working along so far. It will also give you an idea of how much professional he/she is in the work.
3. What is Your Preferred Way Of Communicating During The Development Process?
The lines of communication should be made precise enough to ensure clear and consistent communication. The clearer the communication will be, the more functional app will be delivered right before, so it is important to assess the relevancy of communication flow.
4. What Features You Think Should Be Incorporated For Developing A User-Friendly App?
It is important to hire mobile app developer who makes use of standard industry approach for incorporating all the useful and advanced features. The very best developers will come up with all the essential and upgraded features required to improve conversion, user-engagement and sales on your website.
5. How Will The Development Of Any Mobile App Make Money?
The ultimate aim of developing a mobile app is to earn money. So, before hiring a developer, you need to ensure that he/she is well-versed with the features required to be utilized for making an app profitable and revenue-generating.
Conclusion-
Just like any business project which requires a large outlay of capital, it is important for business owners to ask the right questions before stepping forward for a financial agreement. These five questions should definitely be on top of your list to hire mobile app developer India.