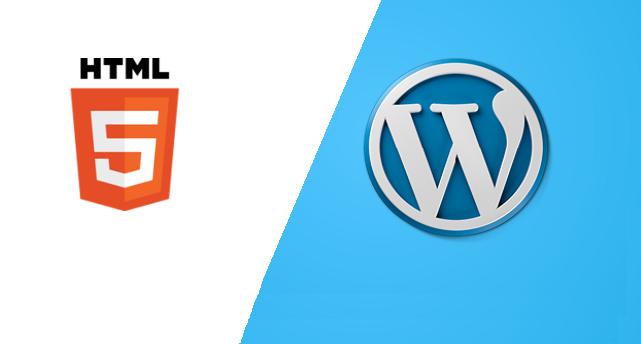 HTML proves to be a perfect choice as far as a better hosting plan is concerned. In order to ensure reliability and security, businesses should hire HTML developers to help them accomplish a successful online venture.
While planning to launch a business website, one might stuck around a situation where it becomes tough to decide between WordPress or HTML. Well, there are plentiful advantages of using HTML over WordPress. HTML which is one of the advanced technology offers the best hosting options when compared to any other platform.
Listed below are a few areas where HTML proves itself to be a clear winner as far as website hosting is considered. Let's give them a detailed look.
HTML vs WordPress Comparisons
HTML offers cross browser tested high-quality premium templates that are free to download without any obligations. In order to start in this competitive market, businesses should start using responsive HTML web hosting templates.
On the other hand, WordPress is a free software, however, there are other elements businesses need to pay for like domain name and hosting space. These are additional costs which depend on the specific requirements. As a business owner, you can also opt for customization, SEO and other factors. In order to simply start a blog on WordPress, a minimal cost of $60 is required for unlimited hosting and a free domain with Bluehost.
Web hosting costs can, therefore, be cost-effective if you choose HTML.
HTML, a flexible choice than WordPress
When it comes to user friendliness, no other technology can beat the power of WordPress. WordPress is certainly easy to manage as far as updating the content, modifying changes or posting a new content is concerned. It does not require learning any technical skill however, HTML is much beyond all these in terms of flexibility. Once you have mastered HTML scripting and some basics of CSS, you will be easily able to design a website that is mobile friendly, search engine friendly beyond the basic functionality. The advancement made in HTML technology that includes document editing, media playback offers a greater control over the website look.
HTML does not even use client to server communication which provides increased speed for your visitors and allow websites to get loaded up quickly.
HTML is secure than WordPress
Once being attacked by the hacker, the loss occurred is uncountable. Other than supervising your sites on a regular basis, you need to choose the best security method when designing a website. Hackers get to the security of your system by understanding the coding structure, however, with the use of latest version of HTML, it becomes next to impossible to decrypt coding as all the security codes are written by the editor and therefore the security level depends totally on the experience and knowledge of code editor.
In a nutshell:
WordPress and HTML are two different ways to create websites with exclusive characteristics. If you are looking forward to creating a fully customized website with a richer experience, HTML should be the foremost choice. Similarly, WordPress is for those who have lesser time and are not much aware of coding.
HTML's advanced version is a great choice in terms of affordability, flexibility and customization. If you are looking for an interactive website or easy management of dynamic content, HTML should be preferred. However, if you have limited technical skills and you don't mind opting for a high price tag, WordPress is great to move ahead with. For better results in terms of reliability and effectiveness, one can also hire WordPress developer who will guide in the best ways to come up with a user-friendly website.