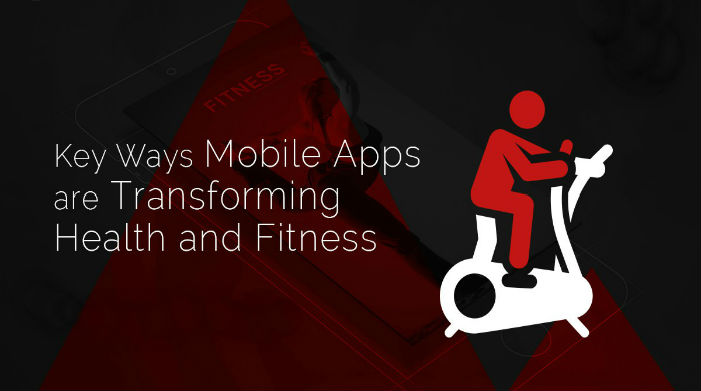 This is the ultra-modern era where technology has covered each realm and healthcare is not behind in the list. Regularly emerging mobile apps made the healthcare industry an easily accessible platform for doctors as well as patients. Let's discover some more facts about the scope of mobile apps in the medical sector.
In this polluted and fast lifestyle, an individual's quest is limited to attain a healthy self excluding all the risks and concerns. Basically, the cycle starts by adhering to a strict diet and exercise routine that probably helps you meet your desired health goals. Generally, medical practitioners suggest a few tests to map individuals' body components. But, what if there's no need to go for a regular checkup and get everything on your tips anywhere and at anytime? Surprised? Modern healthcare mobile apps brought this era for people who really want to have a track on their fitness aspects. Don't consider yourself alone. Healthcare mobile apps are there to resolve all your fitness related issues. If needed the healthcare app developers can integrate the apps with many other specific features.
A Wide Variety Of Healthcare Mobile Apps –
Mobile apps to track overall calories
Mobile apps to suggest regular eating habits
Mobile apps to count your daily steps made
Mobile apps to get easily connected with doctors
Mobile apps for patient data management, and many more
Besides, you can also have myriads of applications as per your healthcare requirements.
Stats elaborating the wide usage of modern medical apps for specific purposes –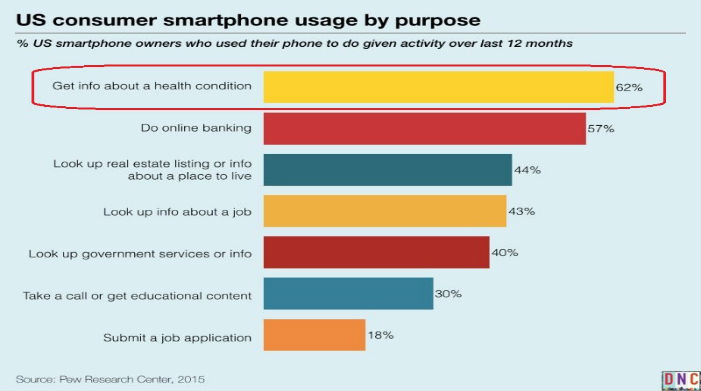 According to the estimated facts, 62% of the US population uses suitable healthcare mobile apps to get frequent information about their health conditions.
Believe us, the percentage is higher and beat all the other industries in terms of mobile app utilization. Have a look at the below stats to clear all your doubts:
Mobile Apps Utilization For –
Job Search – 43%
Online Banking – 57%
Take a cal or finding educational content – 30%
Getting government services or info
Finding real estate listing or information about the new home/place – 44%
Job submission activities – 18%
The stats again proved that the healthcare industry has been witnessing a radical transformation with the introduction of new yet modern medical mobile apps. It also declares that the healthcare apps are gaining much appreciation from the users by offering great user engagement and experience. Do you know how all this become possible? A great contribution of skilled mobile app developers made the journey a seamless experience for all.
Have a look at the significance of mobile apps in the different healthcare industries:
Mobile Apps For Medical Practitioners (Doctors)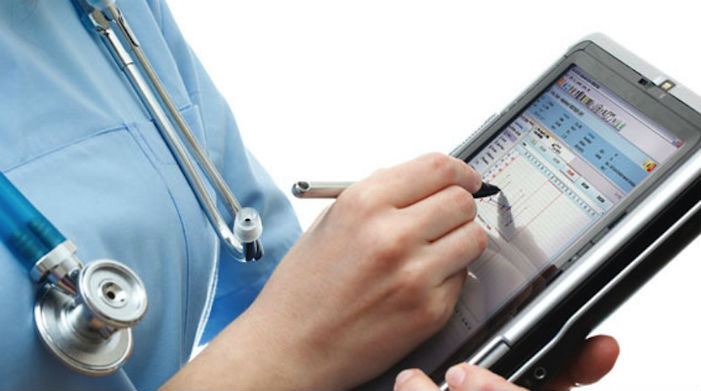 If you're are a doctor and tired of maintaining patients records and many other aspects, healthcare mobile applications are the true companion you can line up all the arrangements with. The apps are powerful and integrated with the relevant data which helps you get medical inquiries quite conveniently. The healthcare app developers build mobile app for doctors to accommodate drug data, medical news, drug formulation information, data regarding continuing medical courses, offline assessment and many other needs. The app is not only built for seasoned doctors but also helpful for the practitioners who are under their studies.
Medical Apps For Patients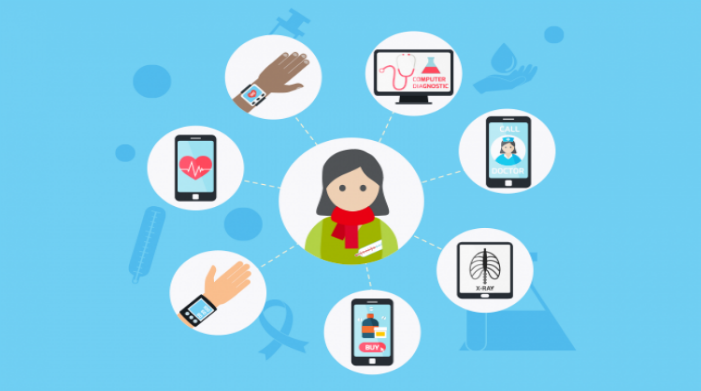 There are a lot of reasons for the bad health of people. There can be polluted air, water and food, non-systematic routine, hectic professional schedule and busy lifestyle. All are valid reasons that maximally affect individuals' health. People ignore these minor problems but, sometimes it's risky. It's better to have a clear insight into the health conditions and move accordingly. Modern healthcare apps are there to help you all the way from tracking wellbeing conditions and suggested cures. Patients can also get suitable prescriptions for their ailments through the app. Today, it's quite easy to get instant help through these apps as these are functionally integrated with the help button calls immediate Ambulance service, doctor to get instant cure online, and a prescription for the sudden health problem.
Mobile Apps For Pharmaceutical Agencies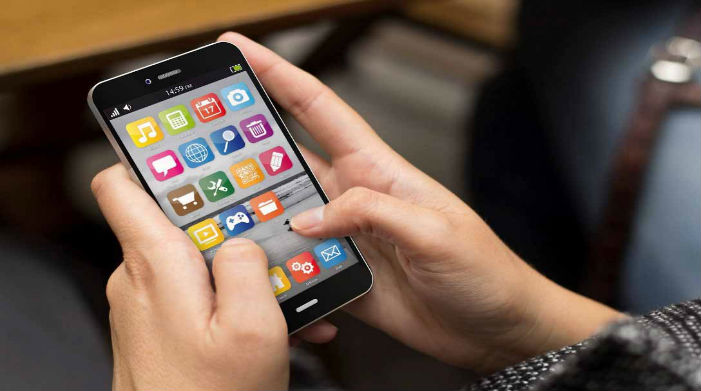 Pharmaceutical agencies in simple terms produce different types of medicines to accomplish several hospital needs. The best way these agencies choose to distribute their medicine slots is through mCommerce which simply portrays the involvement of mobile apps here. Pharmaceutical companies have jumped into the tech-world and made it easier for the users to browse, choose and buy medicines to treat their ailments. Sometimes, prescribed medicines are not available to nearby physical medical stores. In this case, they prefer online websites where they can buy medicines.
Healthcare Apps For Hospital Management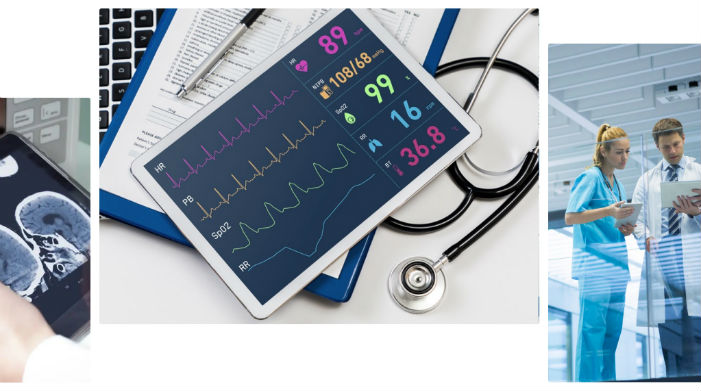 Whether it is a small nursing home or a super specialty healing center, both have segregated wards to handle different types of patients. Being the healing centers they have to manage a lot of chaotic activities starting from patient care, supply management of medications & solutions, handling infusions, operational chores and so forth. The innovative and functional medical apps are the best alternatives to reduce such hassle. Hospitals can expect seamless operational handling with this app which further helps them increase patient trust on them. Consequently, medical institutions have to deal with numerous critical situations and healthcare mobile apps are the proven facilities to augment it. So, it's never a wrong decision to hire a healthcare mobile app developer to reap such advantages.
Mobile Apps For Fitness Enthusiasts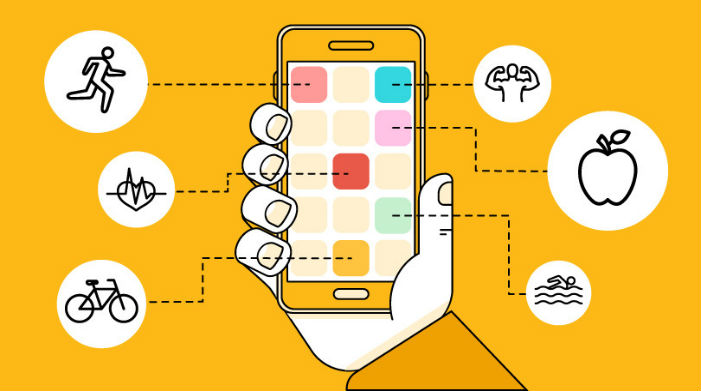 Today, youth is being tilted towards making their life advanced and tech-savvy. They use smart wearables to track each step taken to attain good health. Mobile apps developed for fitness freaks do the same and make people more cognizant for their wellbeing. Introducing gym & yoga, mobile apps are the major steps, mobile app developers create to facilitate fitness conscious individuals. Using such apps, people get more aware of the health-related facts and are able to monitor their day to day nutrition level, calorie ratio, and many others in a trouble-free manner.
This is how the healthcare industry has completely transformed the way people avail, track and connect with medical services.
Final thought:
If you've witnessed all the advantages and facilities, you can explain it to others that how the intervention of mobile apps into the healthcare industry is a boon. However, it's not easy to proceed with the app development but still, you have to take the initiative it if you want to serve your patients and normal health-conscious individuals with best in class health tracking mechanism.
If you own an app idea and want to transform it in completely user-engaging style, then Contact US & hire the best app developers.